Arthur, Illinois


Subscribe to our Amish Country Newsletter
Arthur News
& Event Calendars
November 10, 2009

2010 Central Illinois Bragging Rights BBQ competition dates announced for October 8th and 9th 2010.

visit http://www.cibr-bbq.com
for more infor

December 1, 2009

Arthur to continue with their 3rd Saturday Market through 2010.

visit http://www.gazeboannex.com
for more information
Sponsors
Edible delights and gift baskets straight from the heart of Illinois Amish country. Apple butter, jams, jelly, candy, church peanut butter, and much much more for every occasion and holiday.
Visiting Arthur, Illinois
Arthur, Il and the Illinois Amish country receives hundreds of thousands of visitors each year. It is the country fourth largest Amish settlement and has been named one of Illinois top visitor destinations for numerous years straight.
The Amish and English residents of Arthur encourage visiting and enjoying the simple life. Arthur is a town where you can enjoy one of many downtown shops or grab a malt from the old fashioned soda fountain and find a bench and enjoy the scenery. Arthur's motto is "Where you're a stranger only once" and they stand behind that motto doing their best to make residents and visitors alike feel welcome.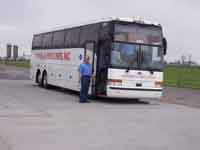 If it is your first time coming to visit Arthur or the Illinois Amish country then you are encouraged to take advantage of a receptive operator like ACM Tours to help plan your visit to the area. ACM Tours helps schedule Arthur and Amish country tours for groups from 2 to 100. These tours will help you get an understanding of the Arthur area, the Amish background, and even give you a chance to have a meal at a local Amish home.
.